From March 22 to April 2, one-hundred members of the Stephen Wise community explored Israel as part of our congregational mission. Led by Rabbi Ammiel Hirsch and joined by Rabbi Rena Rifkin, director of our Religious School, participants experienced Tel Aviv, Jerusalem, Eilat and Petra, Jordan, b'nai mitzvah on the ancient site of Gamla, Kibbutz Lotan, the Golan Heights, Masada and the Dead Sea, dialogue with journalists and political figures, and more.
Here, travelers Faye Silbermann and Paula Zirinsky reflect on their last day in Israel, and on the spiritual and emotional connections that the mission has inspired.
On our last day in Israel, our group, varied in ages and interests, embarked on a range of activities to learn, be spiritually moved, internally inspired, or to just have some fun. The streets of Jerusalem are quiet and the pace of this city distinctly different, occasionally dotted by small groups of families walking to synagogue, men in tallit.
Torah Study with Rabbi Rena Rifkin was totally out of the box. This group walked to the Machaneh Yehuda open-air market (also known as 'the shuk'), which on a typical day is a crowded labyrinth of vegetable stands, spice vendors, specialty shops, and restaurants. But during Shabbat, with the businesses closed and their metal shutters down, the shuk quietly transforms into a gigantic graffiti art gallery. Local artist Solomon Souza, with permission from the owners, has been spray painting vibrant murals of everything from rabbis and biblical scenes to Israeli prime ministers and movie stars like Roseanne Barr and Paul Newman on their shutters. His goal: to create a canvas that will let us taste all the flavors of the Jewish culture, with each community and tradition represented as authentically as possible. The murals were enjoyed by all, young and old, with as many photographs taken as there were murals.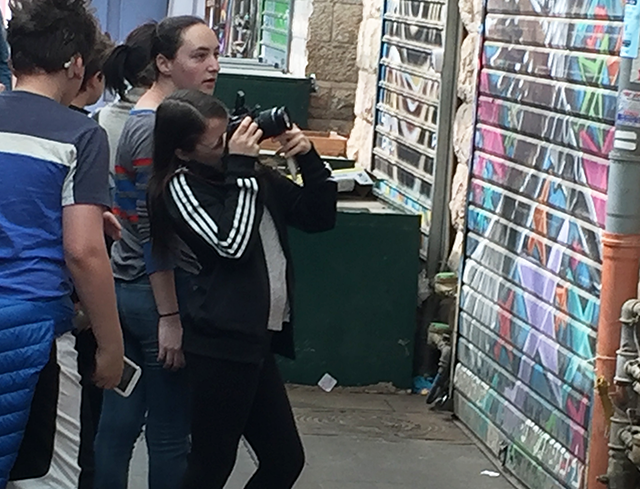 Others traveled to the Israel Museum, Israel's national museum. Home to the Dead Sea Scrolls and other artifacts discovered at Masada, it is one of the leading art and archaeological museums in the world. Those who toured with educator Jeremy Aron came away in awe (with many suggesting that this museum be part of future tracks and not optional) – and with fewer shekels in their pockets after shopping at the museum's gift shop.
Another option was exploration of Christian East Jerusalem on foot with guide Hana Bendcowsky from the Jerusalem Center for Jewish Christian Relations. Hana, an Israel born Orthodox Jew, is an expert in the history of Christianity, in particular as it relates to Israel, with a well-deserved reputation as a gifted teacher. Upon first meeting her at the Jaffa Gate, she explained how the different orthodox Christian groups (e.g., Greek Orthodox, Coptic, etc.) each have a place and what their position is in Jerusalem today. As with everything else learned about on our mission, once one dug a little deeper into the history of the Christians we saw how much more complicated the separate groups are than we had realized. Walking through the streets of the Christian quarter toward the church of the Holy Sepulchre, we learned how to distinguish the different sects by their clothing, flags, carvings in the buildings, etc. We toured the Church of the Holy Sepulchre, where Christians believe Jesus was crucified, where his body was cleaned, and the place from which he rose, along with throngs of excited and fervent tourists and pilgrims of all types.
Back at the hotel, some of our younger children played at the hotel playground with new friends made during the trip, while others from our group enjoyed the magnificent pool (and intermittent sunshine) at the King David Hotel, lunch on the patio, or free time to pack and prepare for our closing session and check-out.
We ended the day as one group, with a festive Middle Eastern farewell dinner at restaurant Naura, located in the Arab village of Abu Ghosh, just outside of Jerusalem. Versus our first dinner together in Tel Aviv nine days earlier, our group now had a distinctly different vibe. Whereas our children sat with their parents that first evening, this time they sat together as one group of friends (regardless of age) at their own tables. There was warmth and laughter in the room among all as wine, bread, and dishes of hummus, eggplant, skewered chicken and beef, lamb chops, and more were passed around the table. We celebrated each other – and three birthdays among us, with sparklers instead of candles.
Buses were boarded and off to the airport we went, our ten-day mission in Israel complete. We leave with so much more than we came with: new friends, a better understanding of Israel, a deeper spiritual and emotional identification with our people, and inspiration to continue our learning and commitment to our faith.