From March 22 to April 2, one-hundred members of the Stephen Wise community — a record-breaking number — are exploring Israel as part of our congregational mission. Led by Rabbi Ammiel Hirsch and joined by Rabbi Rena Rifkin, director of our Religious School, participants experience Tel Aviv, Jerusalem, Eilat and Petra, Jordan, b'nai mitzvah on the ancient site of Gamla, Kibbutz Lotan, the Golan Heights, Masada and the Dead Sea, dialogue with journalists and political figures, and more. For live updates about the trip, follow #SWFSIsrael2017 on social media or visit our Facebook page.
Here, travelers Steve and Judy Eick reflect on a very special b'nai mitzvah ceremony and celebration that left them with "a deep debt of gratitude to the young uniformed men and women" who help insure the remarkable continuity of the Jewish people.
Our day began with a short ride to the beautiful, ancient, and fortified mountain town of Gamla, named for its camel-like silhouette. Rabbi Hirsch selected this site for our trip's b'nai mitzvah ceremony, a poignant return by our mission to a battlefield where the Romans believed they had nearly vanquished the Jewish people in the year 68 CE. Gamla was one of the final Jewish holdouts and obstacles in the path of the Romans as they marched towards Jerusalem and their eventual destruction of the Second Temple.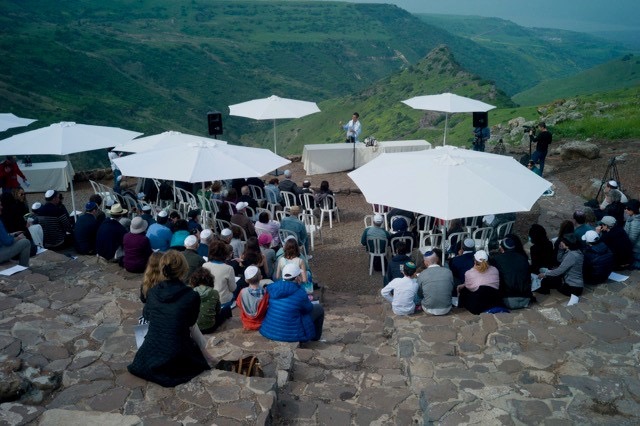 As we gazed out over the remnants of the city walls and the excavated remains of the Gamla synagogue (one of a minority that coexisted with the Second Temple) we were treated to a moving service and multiple Torah readings by a uniformly competent and impressive group of b'nai mitzvah, including: Jade Abramson, Jesse Eick, L.J. and Thomas Grant, Eve Hammerman, Marisa Hirschfeld, Riley Hochwald, Jonah Samton, Ainsley Scheiner, Mason Spodek, Jessica Topkis, and Ethan Zirinsky.
Thomas, L.J., and Jonah proceeded to educate us with inspiring d'var Torah, all of which revolved around the theme of sacrifice. We were asked to reflect on the personal sacrifices each of us must make in our daily lives, as well as the sacrifices our ancestors made to insure the remarkable continuity of the Jewish people. As the rabbi and the b'nai mitzvah participants noted, we, the Jewish people, have out-survived many seemingly more powerful foes.
After this meaningful experience at Gamla, we visited the family run Assaf Winery in a panoramic 13-acre Golan Heights setting. Once the home to only three wine producers, Israel now has over 300 wineries. At large communal tables surrounded by fermentation tanks, we enjoyed four varieties of wine and learned about the wine-making process.
Following our delicious wine tasting, we were joined by a retired IDF Lt. Colonel who described to us the highly unusual humanitarian role Israel has assumed along the border with Syria by providing medical care to wounded Syrians. We were all moved by the Lt. Colonel's remarks and left feeling very proud to be associated with the Jewish homeland, where soldiers are risking their own lives to help victims who would normally be considered enemies of Israel.
We then made our way to the spot overlooking the Syrian border town of Kunetra. We were struck by how close we were to areas within Syria where the Assad regime and rebel groups are, at times, engaged in battle. From our vantage point it seemed very peaceful, yet we all recognized the tragedy that was occurring just beyond the fence that bisected the valley below us.
Next, we headed to an army base in the Hula Valley where we met with a 19-year-old tank commander and his loader, and learned about the formidable capabilities of the Israeli tanks. Soldiers spend as much as two weeks inside these vehicles, which weigh 60 tons and can accurately shoot a target three miles away while traveling at 35 mph over rough terrain. A current controversy in the IDF concerns whether women and men should be allowed to serve together in these tiny confines for such extended and intense periods.
During our remaining time at the army base, we gathered to hear a first-hand recounting of one of the key battles in the Golan Heights during the Yom Kippur War by a former IDF tank commander who, with startlingly poor odds, prevailed against a Syrian tank force that vastly outnumbered the Israeli tank forces.
Our day concluded with a celebratory dinner in a large outdoor tent, complete with Israeli music, dancing and, most interestingly, the company of soldiers from the local base. Capping off a day spent seeing and learning about the vulnerability of the Jewish state but also its military might and humanitarian core, we all felt a deep debt of gratitude to the young uniformed men and women who joined us to celebrate our b'nai mitzvah.