From May 23 to June 1, a group from Stephen Wise travelled to Greece and Germany as part of the synagogue's Refugee Relief Mission. In partnership with two NGOs, IsraAID and NOSTOS, they visited and donated supplies to refugee shelters and learned about the refugee crisis from political figures and experts in the region. They also met with local Jewish leaders and visited Holocaust sites to connect the Jewish story with the plight of today's refugees.
Here, Stephanie Rose, one of our travelers, reflects on testimonies by refugees in Greece and Germany, and visits to local Holocaust sites, through poetry.
And Being Heard
May 27, 2017
A shelter community in Greece

Stephanie wrote this poem on a bus in Greece after hearing the stories of three Syrian asylum seekers. "We were in a new shelter community that has recently been built to welcome new asylum seekers that will likely arrive in the coming month. These three asylum seekers from a neighboring shelter came over to share their stories."
In the metal shed
with the corrugated roof
the rain started
clattered
tapped
in between the words
of the stories of escape
escape from the war
escape from captivity
escape from death
stories of heroism
and resilience
of walking and running
for days without water
and food
and crying out for help
and being heard
and helped,
And as we heard of a father saving his children
sending them one at a time to safety,
of a son, just wanting to
reunite with his family,
As we heard a story written by a Syrian,
of his kidnapping and escape,
too painful for him to tell,
so he passed the smartphone he'd written
his words on
to his Israeli friend
who read his words to us,
rain tapping on the roof between the words,
bringing us all closer together,
as the shelter we were in
sheltered us all from the
rain,
hearts wide open
and Lana sang,
our Israeli friend in the group,
took out her phone to read the
lyrics to a song in Arabic
that she sang…
Salaam Habibi
Hello, my dear one
and our tears started to fall
to join the rain
the washing of feelings
our hearts
crying
caring
why we came
to hear
to honor
to care
and our Syrian friend said in Arabic,
"I feel human again"
translated to us by our Palestinian Israeli friend
to us
human,
humanity,
We had all traveled a very long way to that metal shelter
hours from Thessaloniki
days from Syria
In the new camp built for
those traveling now
those we do not know
who are still fleeing
and who we care about too.
Thank you,
hands on hearts,
thanking each other
for a moment of
connection
of
caring
of
peace
of feeling human again.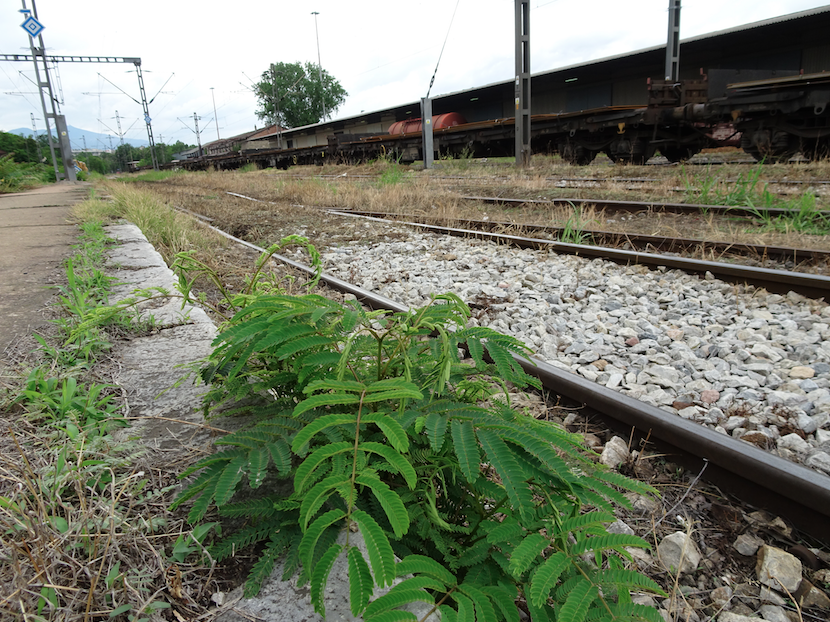 What Drips Through
June 3, 2017

The journey
flows through
my heart
mind
soul
like through a mesh colander
and
what drips through
are
these
words…

We must bring our beating hearts here
to touch these train tracks in Thessaloniki,
to stand on this earth
and hear the memories of those who knew
this place, when it was alive,
to hear about the kosher markets
to see the street that the
Jews were forced to walk down
to these tracks
tracks with trains,
cattle cars meant for livestock,
crammed with Jews,
Rachel and Shlomo,
her grandparents, his cousins,
and hundreds, more
thousands, more
50,000, more
taken on these tracks,
the tracks under our feet,
to their deaths in
Auschwitz and Birkenau,
to transfer to other camps
work camps

We stand on these tracks,
the resilient weeds growing
around these metal tracks
a memory now
And then the song,
by a relative of Thessaloniki,
the son of survivors.
Why did his mother want to return to Auschwitz?
What will she find in the dust and the ashes?
What do we find in these places?
And the song in hebrew
sinks our feet deeper into this place
we must bring our beating hearts here

to the Holocaust axis
the stone chamber in Berlin
Daniel Libeskind's re-creation,
of Auschwitz-Birkenau, Treblinka, Belzec, Bergen-Belsen, Chelmno,
we enter the stone chamber with high walls
sound of the metal door shutting behind us
only a shaft of light
through a crack in the roof
like a chimney
I stand there
my back on the cool stone wall
and imagine the chambers
in silence
Shema in my head
and feel
in desperate silence
time
screeching
to
a
halt
fast brake on the gas pedal
into suspended nothingness

I bring my beating heart here
to enter the chambers
where those fleeing are running to now,
in Greece, to a five story flat in Athens,
a place for unaccompanied minors, boys,
to live,
and meet Syeed, 16 years old, from Iran
How did you get here to Greece, Syeed?
He walked here
from Iran
to Turkey
to a boat to Greece
this child-adult, with his guitar,
wrote a song in Farsi
translated to English on the typed paper in my hands,
he plays and sings,
guitar chords and melodies
open the turquoise shutters on my heart
expose the chambers

I need to bring my beating heart here,
to meet Kana, 12 years old, from Syria
who likes music,
in Arabic or English, or any language,
she waits with her mother and brother and sister
in a shelter in Athens
waiting to reunite with her father in Berlin,
her family destiny laying in an application pile
for family reunification in Germany,
Will Kana make the quota?
Will she grow up with a father?

I bring my beating heart here,
to the island of Lesbos,
to a school and community center on a seaside cliff,
One Happy Family, it is called,
and the children sing,
and I smile,
only to learn afterwards
the painful story
that the children sing because they are expected to
when visitors come,
not songs from the heart,
but forced interaction

on the bus in Lesbos, we hear the story of Nama,
an aid worker, who pulled so many people out of the
water, to help them,
as they crossed the Aegean Sea,
on flimsy pieces of plastic,
from Turkey to the island of Lesbos
But crossing the sea is not the end of the journey,
all asylum seekers must register in the city of Mytilene
on the other side of the hilly island.
Pulling out smart phones, those who just crossed the sea,
snap a selfie,
and ask if there is a taxi to take them to Mytilene,
or a bus,
people who were teachers, doctors, lawyers, in Syria,
but they are told
the only way to get to Mytilene
is to walk there
an 11-hour walk to the other side of the island.
families with young children,
98-year-old women,
when does this journey end?
And the Greek law of the land
forbids any residents from giving the asylum seekers
a ride in their cars,
to the destination,
so aid workers give out sleeping bags
and supplies,
for people to sleep on the sides
of the road,
along their journey.
Aid workers struggling with the morality
of being there to help,
but with the constraints of the law.
Do you give a family a ride in your car?

We enter the chambers,
at the silver tennis bubble converted to a shelter,
on the Kruppestrasse in Berlin.
Ever been in a steaming hot tennis bubble
with thick air,
divided into living quarters,
with no ceilings,
no doors,
just curtains,
for 300 people to share?

And in Spandau, we pull up outside a factory on the outskirts
of the city,
a converted cigarette manufacturing plant,
like a giant airplane hangar,
now a vast living room for hundreds,
We meet Mathias,
who as a journalist wrote an article about homeless shelters,
realized that he'd like to run shelters himself,
to do work with meaning,
to live with meaning

I bring my beating heart here
to German soil
now the promised land of asylum seekers,
and look into the eyes of Marva
a Yazidi woman
who ran for her life
survived the unspeakable
her words translated to us
and
her courage
enters mon couer,
we meet her in a conference room
at the Jewish Museum in Berlin,
and walk on
to hear the clanging metal,
sculptures of metal faces,
GASPING,
crying out,
in graves under my feet,
each step rings out another cry,
from disembodied heads,
relatives,
and Marva's current stories of terror

I bring my beating heart here
to the stone chamber
in silence
and
I will never forget
when the
heavy metal door
opens