AS YOU WALK THROUGH OUR DOORS and into the sanctuary on your way to Shabbat services, you might recognize the beaming couple handing out prayer books and wishing you a heartfelt "Shabbat shalom!" Herb and Judy Katz try to volunteer as greeters here at least once a month and have been doing so since they returned from a Stephen Wise mission to Israel in 2017. "We've worked out a system," Judy says as she sticks a paper insert listing the week's yahrzeits and upcoming events into each siddur and then hands it to Herb, who's arranging them on a rolling shelf. "I prepare the books and, when people start to arrive, Herb stays at the front door so everyone gets special treatment."
"The Talmud tells us: 'Welcoming guests is greater than welcoming the presence of God,'" Rabbi Samantha Natov explains. "Abraham, the very first Jew, sat at the edge of his tent in the heat of summer — and in great physical discomfort — in order to be at the ready to greet passersby. Right from the beginning of Judaism, we see how much importance is placed on the value of hospitality." At Stephen Wise, we honor and continue this Jewish tradition by being gracious hosts — and hundreds of our members volunteer every year as greeters and ushers during Shabbat and holiday services.
For Jill Schildkraut-Katz, volunteering is a family affair. She and her two children have been greeters or ushers during the High Holy Days and b'nai mitzvah services for the past few years. "We volunteer because we love the Stephen Wise community. It's a joy to welcome congregants and visitors to our home, especially during the holidays when there's such an incredible energy," she says. "I want to be a good role model and, in turn, my children want to be role models."
Volunteers don't just help at services. Teens in grades eight through 12 volunteer as madrichim — Hebrew for "guides" or "instructors" — at the Religious School for the entire academic year. During her first week as a madricha, Andie Krein recalls seeing a kindergartener struggling to spell a word. "We ended up talking about all the things we had
in common and she began to warm up to me. Not only was I helping the teacher out by focusing on this one child, but by connecting with the students and sharing my own experiences, I was making a real difference and becoming part of their lives. It's been such a meaningful and incredibly rewarding experience."
"It's so important for us to have these young volunteers who come back and give back to the school. They understand what it's like to be a student here and they can help in ways that teachers can't," says Rabbi Rena Rifkin, Stephen Wise's director of youth education. "Our teen programming associate mentors the madrichim as they explore what it means to be looked up to as a Jewish leader and educator — and our teachers support them and help them get hands-on experience being Jewish role models. We want to make sure that our volunteers get the most out of the time they give."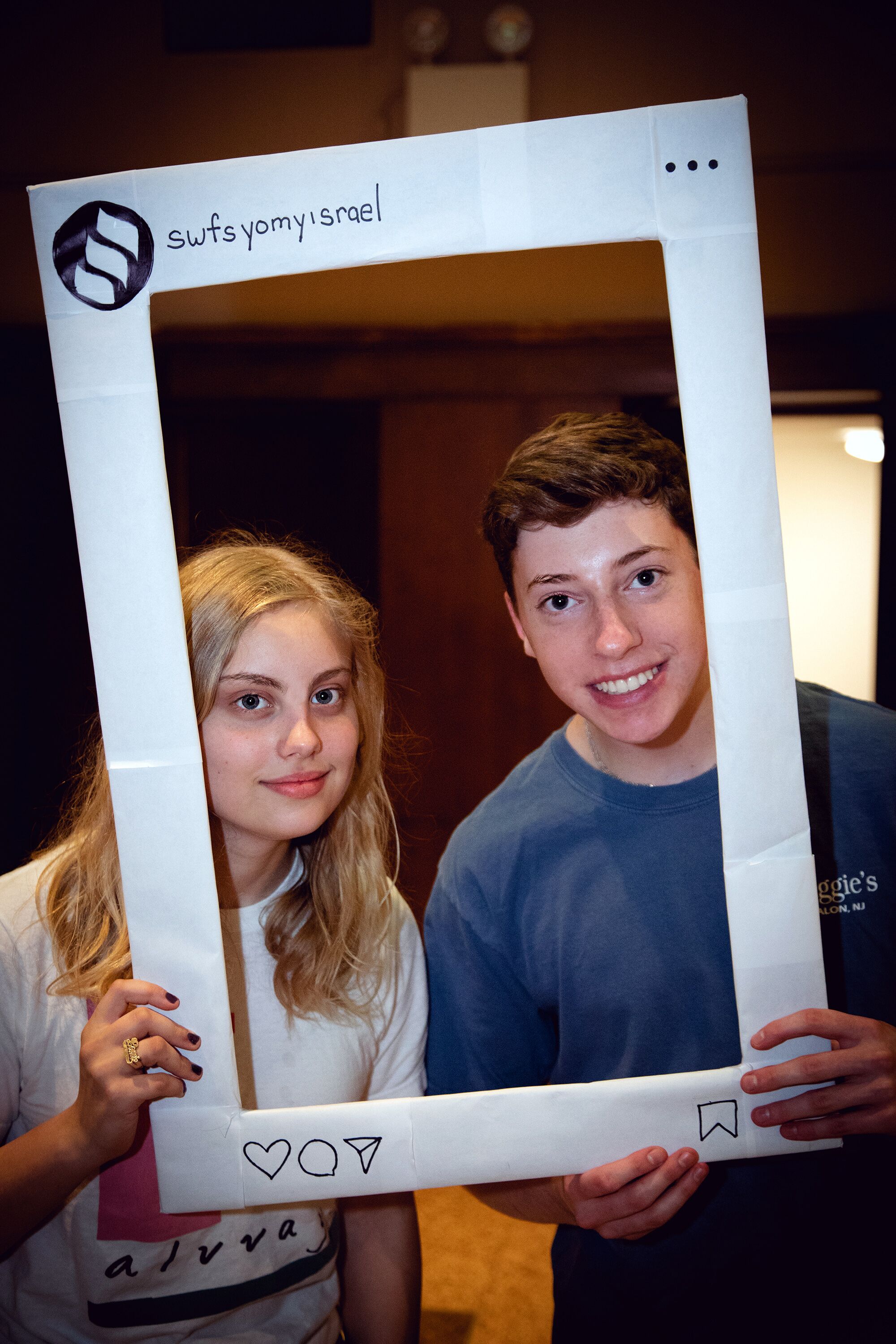 Will Quigley certainly did. For five years before heading off to college this fall, Will worked closely with a student who has cerebral palsy and the two became inseparable. "I learned so much about myself and Judaism. It was a very important experience for me in terms of becoming who I am," Will says.
Our synagogue also operates an entirely volunteer-run, on-site homeless shelter, which accommodates 10 men, five nights a week, for nine months of the year. "We've been volunteering here for around 15 years," says Faye Schneier as she slices tomatoes for a healthy salad. Her husband Roger slides a tray of fish sticks into the oven.
"We've been very lucky in our lives and a lot of people haven't been, so we figure we have to do what we can," he explains. Just after 8 a.m. on a Saturday, a groggy woman accidentally adds a third bag of bread to the package she's putting together as part of the Emergency Food Program — also run by volunteers, who prepare and distribute food to our neighbors in need. Program coordinator Scott DiSavino corrects her and smiles. He says, "I tell anyone who volunteers here: 'You can't make a mistake if you're doing a mitzvah."
At an editorial meeting for Stephen Wise's annual magazine, Executive Director Sandra Divack Moss suggests honoring our volunteers with a feature article. "Where would this synagogue be without our members?" she asks. Then, spreading her arms, she exclaims, "Without them, we couldn't do any of this!"